Hot day working in the engine room? Crank up some air conditioning!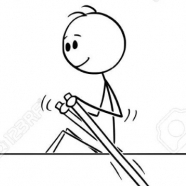 LaRea
Alexandria Virginia
Member
Posts: 4,371
✭✭✭✭✭
I can't believe I never thought of this before today.  Are you tired of working in a hot engine room?  Run a cheap piece of 4" dryer ducting from your cabin AC vent into the engine room!  

Today, I worked in the engine room from 6AM until 10AM.  It was already miserable at 6AM.  I got back around 2PM to start the task of replacing my 4" blower hoses.  Said to myself, "Self, what if you used a binder clip to connect this ducting to the HVAC?"

My life as a boat mechanic will never be the same.  And I hate the world for never informing me that this could be done.