Winterize with air compressor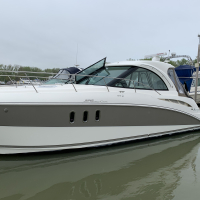 Liberty44140
Bay Village & Marblehead, OH.
Member
Posts: 3,144
✭✭✭✭✭
The previous owner of my boat used air to winterize the freshwater system with air. I just hate running the pink out of the freshwater tank and lines in the spring and since I have a compressor I decided to do it. Worked pretty well, connected line to the city water inlet and kept the regulator lower, 25-40 psi. Did each shower and faucet a few times starting in the bow until it was nothing but air. Then blew a little air through the fw pump to be sure it was empty too. I made up this rig years ago to connect my compressor to my home sprinkler system and just had to add one more piece to connect it to the boat. All little pieces from Lowe's sprinkler system section except the brass nipple for the compressor which came from harbor freight, it is not 100% air tight, probably 95, but for my uses that is just fine....
Of course still used pink in ac units, drains and sump tanks, down the toilet to holding tank, and raw wash down. 
07' Cruisers 390 (Previous Rinker's: 06' 342EC & 01' 310FV)