Mod to keep the aft fill cushion from slipping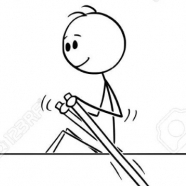 LaRea
Alexandria Virginia
Member
Posts: 4,373
✭✭✭✭✭
I came up with a simple fix for a long-standing Rinker issue related to the cockpit aft fill cushion.
The cushion I'm talking about is the removable cushion for the port side of the transom bench seat.  It has been standard equipment on larger Rinker cruisers for the past 15 years or so.  The problem is that if you step on it when boarding the boat from the port side, it can slide out from under you.  My wife loves the fill cushion, but after using it a few times, we realized that it's just too dangerous to use with guests on the boat.

This is a 2-part fix involving nothing more than marine lumber (Starboard) and six screws.  
The fill cushion has two metal legs that rest on a ledge at the front of the transom bench seat.  The first problem is that there's nothing to keep the cushion from sliding inboard when you step on it.  What I did was cut two pieces of 3/4" x 3/4" x 3" marine lumber and screw them to the ledge next to where the legs rest.  Simple, unobtrusive and effective.  

The second half of the fix is to keep the fill cushion from rocking when you step on the inboard edge.  I cut a 3/4" x 3/4" x 5" piece of marine lumber and screwed it to the underside of the fill cushion, right in front of the existing piece.  
With these two simple mods, the cushion is stable and safe.  I wish I had thought of this many years ago.  Now that I know it works, I'll go back and seal the screw holes with marine sealant.