How much power steering fluid do I need?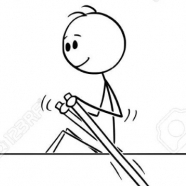 LaRea
Alexandria Virginia
Member
Posts: 4,371
✭✭✭✭✭
Merc 496 Bravo 3, how much power steering fluid do I need to refill from empty?
Today I had an epic fail of the high pressure power steering hose.  I had just got on plane and set the autopilot, when suddenly the wheel went hard to starboard at 34 mph.  That was thrilling!  I killed the throttles and the steering was fighting me.  At first, I thought the autopilot had become possessed.  Nope.  The hose just popped right out of the fitting, instantly draining all fluid into a spectacular mess.  
I think I shut down the engine soon enough that I didn't toast the power steering pump.  
The cruise home was interesting.  16 miles from DC, on one engine, with no power steering.