FV270 tri-axle trailer set up and dimensions
TikiHut2
Sarasota, Fl
Member
Posts: 1,431
✭✭✭✭✭
We have a 2004 FV270 that didn't come with a trailer so I found a nice tri-axle and gave it a through rebuild. The upgrade has new springs/shackles, new LED lights and wiring frt-to-back, rebuilt actuator, new stainless disc brakes, new bearings and seals and a fresh set of rubber. The cypress bunks were great so they got new carpet. The trailer had a fine winch post and bow chock and after a few upright bow V-guide prototypes I engineered two carpeted horizontal bow support guides near the keel for simple loading. A new set of upright rear float on guide posts makes this a perfect trailer for a larger boat.
There have been numerous requests for the bunk/guide/winch layout so I assembled all the misc pics and here are the dimensions within a few inches if you are doing a similar sized boat. Critical layout centers around the whole rig balancing on the center axle, the bunks extending to support the transom and the tongue weight on the trailer being around 7-10% of the total rig weight. Bunk width needs to run the length of the flat portion of both strakes.
Trailer tongue length needs to be enough to allow the anchor roller with an anchor in-place to easily clear the truck on launch. Make sure the bow chock and winch will also clear the anchor as the bow will rotate downward on launch. A steep ramp will exacerbate that issue with a bow anchor fouling on a taller winch. Easing the anchor and setting it aside is an extra step but always an option.
I'm sure there's more but I'd add that this is an intermediate/advanced fabrication project for those with the shop and tools to safely tackle the job. Our trailer has greatly expanded our spontaneous cruising range, pulls like it's on rails at 65mph and will stop with safety and assurance in an emergency. Good luck and here's a few of our pics/measurements. Again, not all bow guide mods were adopted in the final version shown at the top.
Hope that helps.
Mike m/v TikiHut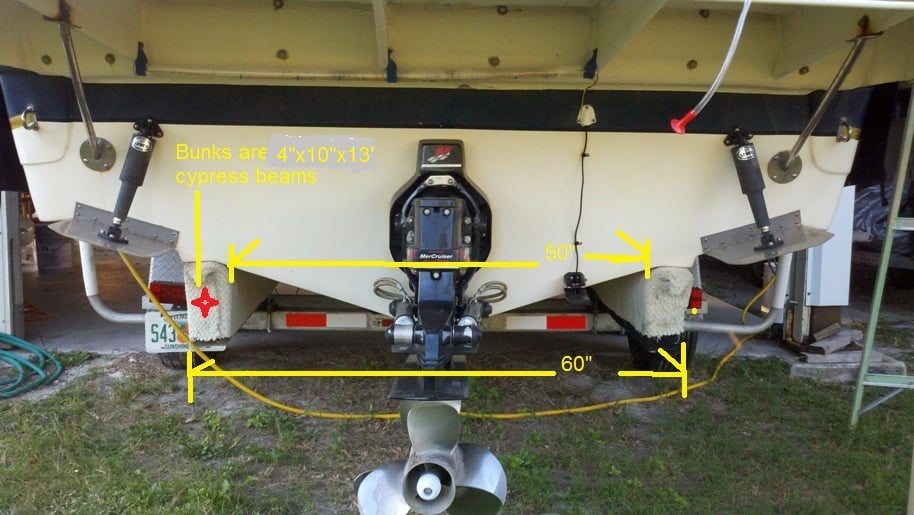 2004 FV270, 300hp 5.7 350mag MPI Merc 305hrs, 2:20 Bravo3 OD w.22p props, 12v Lenco tabs, Kohler 5kw genset, A/C, etc.etc...
Regular weekender, Trailer stored indoors,
M/V TikiHut,

Sarasota, Fl