Swim platform bracket project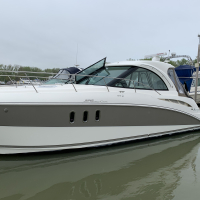 Liberty44140
Bay Village & Marblehead, OH.
Member
Posts: 2,894
✭✭✭✭
Going to remove my swim platform brackets and have re made. As you can see they are bent after 10 years of use. Surprised that my bow rails are 1 1/8" Ss tube but these two brackets are only 7/8"! They were bent when I bought the boat last spring. I plan to have a local welding shop re use the ends and replace the tube  with 1 1/8" tube and wanted to ask for some advice.
1- are the 4 screws per bracket below the water line holding the bracket in to the transom just screws and not thru bolted? I can not find nuts in the engine room.
2- the brackets are 3' long and don't get to the middle of the platform. Should i go longer, 4 ft?
3- one screw on each bracket has its head sheared off. Can I drill small holes around the screw to remove the screw from transom? I plan to replace the screws with hex top and Re bed with 4200. 
any other concerns? Kind of an engineering project!
07' Cruisers 390 (Previous Rinker's: 06' 342EC & 01' 310FV)