Decided to swap props while on vacation with the boat...
(Edited now after test run)
Just getting this out of the way for future visitors:
2004 Fiesta Vee 270 with a 383 Fresh water cooled engine.
So it's a completely different feel to the boat and the ONLY regret is that the props weren't installed before the 8 hour trip was made on it last week.
First of all, there didn't use to be ANY push back in the seat feeling when the 3 blade 22p were installed. Now, there actually is a slight/decent amount of feeling as the boat speeds up.
The first time I hit the throttle all the way it roared to life, MUCH faster rpm climb than usual (expected this)..
The surprises are:
There used to be a low noise as the boat sped up, kind of a groan, but it was there when the boat would be speeding up, transition to being on plane and then when you let off to maintain speed it would lighten up. This noise is completely gone.
Not only that, but both mother and sister made observations that the engine is noticeably quieter (ie. not working as hard as it used to be doing..) We can actually have a conversation on plane now, before the motor would be roaring to keep the boat on plane (25.5 or so mph or more).
Speed to stay on plane has dropped considerably!
This was pretty much the edge of dropping off plane.. it could consistently stay on plane at 20, I've NEVER been able to do that.
This was just another data point, so 100 RPM seems to be a 1.5 mph difference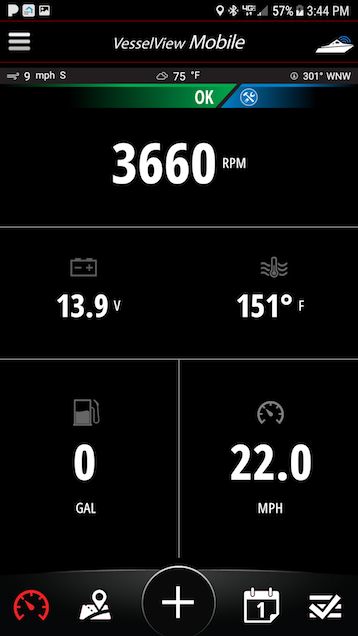 so another 90 rpm gained 2 mph at this speed:
I have to look back at my other results, but pretty sure that this is almost the same rpm's for 28mph.
However, what these results can't possibly convey is how much "stronger" the boat felt, first of all I'd seen a couple people talk about the rear of the boat riding higher... well... I think this may be true, but only because there is absolutely NO reason to trim up anymore... at least in the current 1-2 ft waves we were hitting.. trimming up didn't seem to do much but increase noise (exhaust?) I will test it out more tomorrow but the boat overall just seemed to be happier with not working as hard.
The other thing that I'm overjoyed about is that there's MUCH more flexibility between 20mph and 30mph for staying on plane.
On this recent trip with the 3blade 22p, I rounded the northern corner of Block Island and the waves present were big and stacked one on top of the other. The boat was taking them fine at 18 mph, but it was a TON of RPMS to be turning, not being on plane so the only answer was to either drop down to 10mph and have it take HOURS to get there or run the boat at 25+ and beat the thing up. I pointed the boat in the best way I could and sped up. So much so that the toilet lid broke off and screws for the bimini needed to be screwed back in at the next stop.. it was pretty mucht he worst ride ever on a boat. The important part here is that I feel like being on plane at 20mph would have made this ride tolerable both for driver and boat.
As far as top speed goes, I didn't really get to try it out in the same conditions that I did with the 22p 3blades. I did see 34 or 35mph, didn't feel like there was much left and couldn't really look at the rpms at the time (my tach is WAY off, so I've only been using VVM). No matter what happens, if my boat never sees 36mph again, that's more than fine vs the trade off of having a boat that can be on plane at 20mph!! Admittedly falling off it if the wind blows, but still awesome.
Lastly, I don't really see what's so great about the 383 stroker, but I've never been on a 350 for very long. Some seemed to think the 20p would be too little pitch for the 383, the father at Hill told me he had heard that, and then those people with the 383 would send the 22p's back for the 20's. Bottom line, I'd be interested in trying out 22p 4blades to see the difference, but I'm pretty darn happy with these results!!